Sunday, September 21, 2014
The World's Most Famous Trash Box Kim Kuntrashian Can't Possibly Think She's A Victim Of Nude Photo Hacking, Especially When Her Entire Career Is Built On Being An Amateur Porn Star -
E Online
It's Always A Good Day When Gina G Makes The Most 13 Overlooked Pop Albums List -
Idolator
Cher Is Being Sued By Dancers Who Claim The Gypsy, Tramp And Thief Is A Racist -
NYDN
UN Goodwill Ambassador Emma Watson Promotes #HeForShe Gender Equality Program -
Rappler
I Guess Julianne Hough Felt She Already Dated One Closet Case, So She Wasn't Going Back To Playing Another Celebrity Beard Again -
Attitude
Is Gay Voice Ruining Lives? -
Advocate
The Time Has Come To Create A Drag Race For Baby LadyBoys -
NewNowNext
Nick Jonas Says He Wishes The Jonas Brothers Had Done More For Their Gay Fans -
Pink News
Straight Guy Gets Punched In The Face After He Calls Out Woman Over Homophobic Slur -
Huff Po
Census Bureau Now Counts Married Same-Sex Couples As Families -
The Charlotte Observer
Support For Marriage Equality Now At 58 % -
Washington Post
Unreleased Duet Between Michael Jackson and Freddie Mercury To Be Included On New Queen Album, Which Drops In November -
The Gay UK
Chilean Clothing Company Called Out For Removing Same Sex Kiss From Ads -
Pink News
Fox News Pissed At Bill Maher For Calling The Network Out On Their Polarizing News Stories -
Crooks And Liars
Joan Rivers Endorses The iPhone 6 From Beyond The Grave -
Pink Is The New Blog
Gael Garcia Bernal Believes Monogamy Is An Inheritance Of Medieval Times -
Celebitchy
One Of The Russian Bitches From Fake Lesbian Act t.A.T.u. Is A Raging Homophobe - Jezebel
Zachary Quinto Is Not Returning To Heroes Reboot -
The Backlot
The Everyday Struggles Of Gay Mexicans -
Queerty
John Travolta's Alleged Ex-Lover Wants $10 Million To Not Out Him -
Rainbow Scoop
Posted by

Kris Avalon
at 11:11 AM
No comments:


Saturday, September 20, 2014
The queen of aluminum (since she will never go platinum as an artist) Keyshia Cole ended up in handcuffs after she channeled her inner Love & Hip Hop (of whatever franchise) ratchet diva and put her hands on a woman who allegedly spent the night at rumored boyfriend Birdman's condo.
What had happened was (pops tongue) Keyshia popped up at Birdman's condo complex in West L.A. at around 5 a.m. on Friday to visit

the Cash

Money CEO, who she's rumored to be bumpging uglies with.
Security allowed her to enter Birdman's penthouse, but when she arrived, she saw

another woman

and reportedly popped off on her, leaving scratches all over her face (much like her single "Rick James").
The police were called and Keyshia was put in handcuffs for battery and an outstanding reckless driving warrant.She spent the morning in jail and was released on $46,000 bail.
Shortly after her release she took to Instagram to post the following message:
How fitting is it that Keyshia's sixth album Point of No Return happens to drop on October 7 so she better not be surprised that since her album release is right around the corner that many a blogger and reporter asks her what went down.
Posted by

Kris Avalon
at 11:41 PM
No comments:


After taking a few years off from performing with the Black Eyed Peas and as a solo artist to focus on getting pregnant (which she did with baby Axl), Fergie is back with new music. Last month when she stopped by Chelsea Lately she revealed that she had been working on new music for her next solo album, and we got a taste of what's to come with a snippet of her new single L.A. Love (La La La).
I like Fergie whenever I see her in interviews, and she was definitely a breath of fresh air to the other bland members of BEP. As a solo artist I couldn't really get into her. Yes I loved London Bridge and Big Girls Don't Cry, but I always felt she came off as a poor man's Gwen Stefani instead of carving out her own individual personality.
So if you liked the music from her debut solo album The Dutchess, you'll definitely dig what you hear in this song, which she premiered at the DSquared2 fashion show in Milan.
Check it out at the following link
Posted by

Kris Avalon
at 11:13 PM
No comments:


I love my share of horror films, and I tend to get a bit peeved when Hollyweird tends to remake all of my favorites, but now comes word that a reboot of I Know What You Did Last Summer is in the works.
According to Deadline, Sony Pictures is rebooting I Know What You Did Last Summer, the 1997 horror flick that ended up grossing $125M worldwide and spawned a sequel the following year. Both starred Jennifer Love Hewitt. This one is being written by Oculus c0-writer/director Mike Flanagan and partner Jeff Howard who are adapting the 1973 Lois Duncan book again. Producing is Neal Moritz (Fast and Furious franchise) who also produced the original 17 years ago. If the budget is kept tight for the revamp of the popular horror movie about friends being stalked by a killer after conspiring to cover up a fatal car accident, it could be a very profitable venture for the studio.
Moritz is also producing
23 Jump Street
for Sony, the three-quel.
22 Jump Street,
which re-paired Jonah Hill and Channing Tatum, has made over $300M worldwide for the studio.
So they are remaking a franchise that wasn't good to begin with. While I love me some JLH, Sarah Michelle Gellar and Ryan Phillippe, I Know What You Did Last Summer wasn't as good as Scream. It did have a bit of a camp factor that made me like the film more than I should have, especially Anne Heche's creepy turn as Missy Egan. The sequel on the other hand (with Brandy) was a hot ass mess.
I just want to see more original horror movie ideas make a profit at the box office and for once these mainstream studios take a damn chance on an original idea instead of beating a dead horse until all the coins fly out. If the remake follows the original book instead of some foolishness about a killer with a fisherman hook, then I will check it out once it's released.
Posted by

Kris Avalon
at 11:05 PM
No comments:


DC may be M.I.A. when it comes to the big screen (we have to wait until 2016 for the Batman vs. Superman movie), but you can't deny they are taking the small screen by storm while Marvel's Agents of S.H.I.E.L.D. struggles to find it's voice.
With the success of Arrow, and the additions of The Flash, Constantine, Gotham, iZombie and a live action version of Teen Titans (renamed Titans) about to take over our TV screens, word on the street is that CBS has given a full season order for a live action Supergirl TV series.
The series will be overseen by Greg Berlanti and Ali Adler, who last worked together on the short-lived ABC superhero series No Ordinary Family. Berlanti has already experienced superhero success with Arrow and The Flash has been getting rave reviews from critics.
For those of you not familiar with comics, t
he Supergirl character was created by writer Otto Binder and designed by artist Al Plastino in 1959. Of the several women who have assumed the caped girl persona in the comics, the Berlanti-Adler series will feature the most popular one:
SUPERMAN
's cousin, Kara Zor-El, who shares his super powers and vulnerability to Kryptonite. Unlike WBTV's long-running Superman series
Smallville
, which focused on the superhero's journey up to acquiring the powers and becoming Superman,
Supergirl
starts with Kara beginning to use her abilities.
Born on the planet Krypton, Kara Zor-El escaped amid its destruction years ago. Since arriving on Earth, she's been hiding the powers she shares with her famous cousin. But now at age 24, she decides to embrace her superhuman abilities and be the hero she was always meant to be. Berlanti and Adler will write the script and executive produce with Berlanti Prods.' Sarah Schechter. Also closely involved in the development of the project has been DC Entertainment's chief creative officer Geoff Johns.
Now how about giving the green light to a Wonder Woman movie/TV series?
Posted by

Kris Avalon
at 10:41 PM
No comments:


Nicole Scherzinger has unleashed the official cover art and tracklist for her new album Big Fat Lie, which drops next month and was executive produced by The-Dream and Tricky Stewart. Nicole looks naturally stunning as always, but I can't with this low-budget bargain basement album cover. The standard edition will feature 11 tracks while the Deluxe will feature three extra songs. Nicole has also revealed this is her most personal album to date, and while I don't think the album will catapult her to Beyonce status in the States, she'll definitely have a lot more success across the pond.
Check out the tracklist below...
Big Fat Lie Tracklisting

2. "Electric Blue" feat. T.I.

3. "On the Rocks"

4. "Heartbreaker"

5. "God of War"

6. "Girl with a Diamond Heart"

7. "Just a Girl"

8. "First Time"

9. "Bang"

10. "Big Fat Lie"

11." Run"

13. "Unison"

14. "Cold World"
Posted by

Kris Avalon
at 1:37 PM
No comments:


Honey Boo Boo must be stuffing her baby face with a pound of sketti and processed tater tots over this news, because her psychological biological parents of all things elegant Mama June and Sugar Bear have quit each other. If the Jay Z and Beyonce of the south can't make it, there's no hope for humanity as we know it.
The reason behind their split is because Mama June got wind of Sugar Bear trolling dating sites for new pumkash to dive into. According to TMZ, he has a profile on PlentyOfFish.com and goes by the username

Georgiafighter31054.
Check out the statement they released to TMZ:
"Sugar Bear and I have decided to take some time apart to figure out some things in our relationship. We are taking things day by day but regardless of what happens the girls will always be our #1 priority. We want to thank ya'll for your support."
If you have watched the show (and I'm not afraid to admit I have), June has stated a few times on the show that when Sugar wants some she doesn't want to have sex, and like I have stated a gazillion times if a woman won't put it down for her man then you can't be surprised when said man steps out to find someone who will do what you won't.
I'm also hearing that Sugar Bear will not be fired from the series Here Comes Honey Boo Boo, so we shall see how all this madness plays out on the next season.
Posted by

Kris Avalon
at 1:30 PM
No comments:


As they say in show business, the show must go on. When I first heard (and had a difficult time processing the fact that we would have to live in a world without the sharp wit of comic icon Joan Rivers, I immediately began to wonder what would happen to her hit show Fashion Police. I felt the show couldn't live on without Joan sitting in the main chair, but the overlords of E! think otherwise.
We are deeply saddened by the loss of Joan Rivers and, for the last two weeks, have turned our attention to honoring her memory on all of our platforms. We have also thought long and hard about what Joan would have wanted as it pertains to the
future
of Fashion Police. We decided, with Melissa Rivers' blessing, that Joan would have wanted the franchise to continue. Fashion Police will return in 2015 commencing with Golden Globes coverage on Monday, January 12. No further details will be announced at this time.
The network aired a special 90 minute Fashion Police tribute to Joan last night, but the series will return in 2015 when they cover the Golden Globes. The show is executive produced by Joan's daughter Melissa and features Kelly Osbourne, Giuliana Rancic and George Kotsiopoulos as Joan's co-hosts.
No word if they will continue on the panel without Joan, but as for who will sit in Joan's seat will they hire another comic? I think they should hire either Bianca Del Rio (who is the closest to having Joan's wit as we will get) or RuPaul. Drag queens are becoming more mainstream (thanks to the latter), so why not flood the market with more hilarious gays? In the meantime, I guess we'll just have to wait until next year to find out.
Check out a few clips from the Joan Rivers tribute below...
Posted by

Kris Avalon
at 1:17 PM
No comments:


Shooting is currently underway for the sequel to Magic Mike, and Joe Manganiello took to Twitter to reveal how jacked he's gotten after the last pic we saw of him two months ago had him looking smaller than he does now.
In other MM news, Amber Heard will play Channing's love interest in the new movie and I'm hearing that Matthew McConaughey will not be returning (he's a serious thespian now), which is great because he wasn't the best part of the original film anyway. I just hope Channing (who wrote the script) will give Joe a much larger part in the next movie.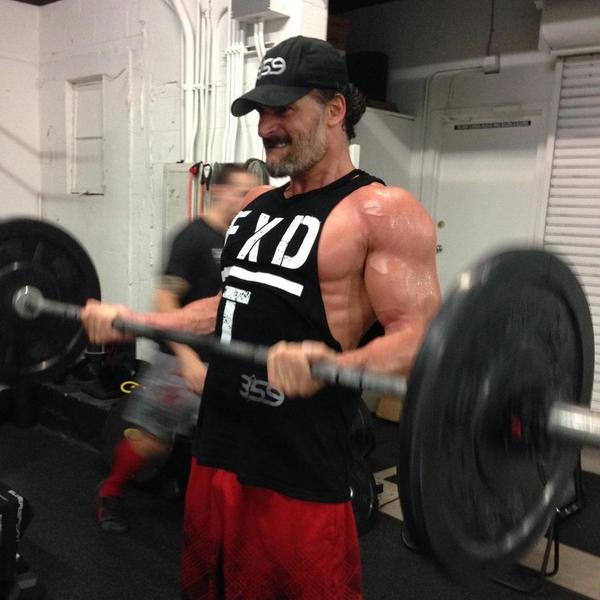 I'm also hoping his lower muscle isn't affecting his performance in the bedroom with Sofia Vergara, in which a recent blind item states that he's hot on the outside but he may be having problems putting it down in the bedroom.
Posted by

Kris Avalon
at 1:04 PM
No comments:


It's official! Bianca Del Rio is the spoonful of musical sugar that helps any medicine provided by your favorite gay artist go down. Ever since winning RuPaul's Drag Race, the hilarious drag diva has been in high demand, appearing on the final episode of In Bed With Joan and in a few music videos from other artists.
Check out the video, which also features my girl Cherie Lily and Big Dipper below...
Posted by

Kris Avalon
at 12:53 PM
No comments:


I can't wait for the new season of Brooklyn Nine-Nine to return tomorrow.
Posted by

Kris Avalon
at 12:41 PM
No comments:


Movies
5 Deadly Venoms
Aliens
Another Gay Movie
Blade
Blade Runner
Boy Culture
Brokeback Mountain
Die Hard
E.T.
Eating Out
Enter the Dragon
First Blood
Friday the 13th (1980)
Inception
Jaws
Kick-Ass
Kill Bill
Milk
Mysterious Skin
Night of the Living Dead
Piranha
Raiders of the Lost Ark
Salt
Saw
Shortbus
Speed
Spider Man 2
T2
The Bourne Trilogy
The Circuit
The Crazies (2009)
The Dark Knight
The Empire Strikes Back
The Fluffer
The Goonies
The Lost Boys
The Matrix
The Monster Squad
The Road
The Road Warrior
The Terminator
True Lies