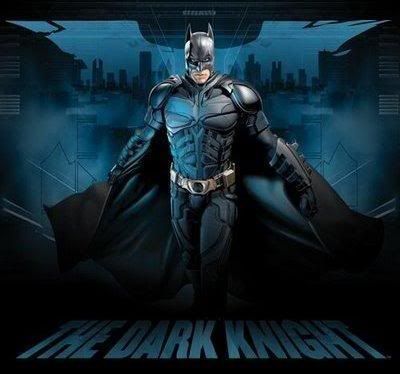 Ever since director
Christopher Nolan
announced he was working on the third sequel to his Batman series, everyone from the fanboys to the blogosphere have been speculating who will be the villain(s) in
The Dark Knight Rises.
In the first one we had unfamiliar dual villains
Ra's al Ghul
(played by Liam Neeson) and The Scarecrow (a minor figure mainly known for roles in Arkham Asylum and Calendar Man played by Cillian Murphy).
In
The Dark Knight
we had
Two-Face
(played by
Aaron Ekhart
) and
The Joker
(played by the late, brilliant
Heath Ledger,
who won an
Oscar
for his role). The Dark Knight was hands down the best Batman film ever made in my opinion, and even did th unspeakable by killing off Bruce Wayne's love
Rachel Dawes.
When
Bruce Wayne
returns to fight another day in
Gotham City,
the blogosphere had rumors going that Joseph Gordon-Levitt would be playing The Riddler, and Angelina Jolie would be Catwoman. The screenplay is on a very short leash, but what we do know is that Nolan is looking for Wayne's love interest in the third installment. New rumors on the website
Collider
say that Eva Green (
The Dreamers
) and Naomi Watts (
The Ring
) may have already been cast as Batman's new lady loves in the movie.
Roles up for grabs are
Vicky Vale,
a reporter who was originally played by
Kim Basinger
in
Tim Burton's
Batman
, and
Talia al Ghul,
daughter of
Ra's al Ghul
(Ra's was killed at the end of
Batman Begins
). In the comics Talia has been an anti-hero/love-interest for Batman. So does that mean no
Catwoman
in the third film? I hope she will be.
It's also been reported that
Keira Knightley, Anne Hathaway, Jessica Biel, Kate Mara, Charlotte Riley, and Gemma Arterton
have all been screen tested for roles. For those not in the know, Riley is the fiancee of actor
Tom Hardy
who will also star in Rises. Arterton may have issues regarding scheduling since she will play the lead alongside
Jeremy Renner
in
Paramount's Hansel and Gretel: Witch Hunters.
The villains I would love to see in the new movie would be
Harley Quinn, Catwoman,
and
The Riddler.
If played right The Riddler could be an even more sinister villain than The Joker.
The Dark Knight Rises
will be in theaters on
July 20, 2012
and will start shooting this Spring.